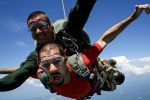 I'm Brett Deutsch, owner and chief photographer of Headshots NYC, Gotham Family Photos and Deutsch Photography.
No matter who or what I photograph — executives, actors, celebrities, families or events — I want my images to be truthful and powerful. I'm a documentarian at heart, so I like to capture a sliver of story in every photograph.
I formally trained at Pomona College, the New York Institute of Photography and the School of Visual Arts, but mostly I've learned to take a great photograph by shooting hundreds of thousands of pictures in Manhattan and around the world. In addition to my work around NYC, I've tramped with my cameras through 26 countries across 7 continents, including Antarctica. My travel photography and portraits have been featured in Backstage, The New York Times, Time Out London, and the Dallas Morning News, to name a few.
When not shooting photos, I enjoy going on (mis)adventures with my wife and business partner Sherri Phillips, our faithful companion SamTheDog, and our friends.