We ran a poll on LinkedIn recently to find out what our clients and prospects think takes priority when you're trying to nail a great headshot.
#1 LinkedIn Selection: Lighting
We completely agree that lighting is critical. After all, if you're standing in the dark or your image is so blown out that your features are indiscernible, you've got a useless headshot! And lighting can also bring a sparkle to your eye and a gleam to your skin. But…
Our #1 Selection: Clear Objective
We think it's equally if not more important to have a clear objective before you even book your headshot session. Where are you going to use the headshot? On your website, for publicity, on a resume, on LinkedIn, in a newsletter or annual report? What do you want it to convey about you and your profession? Confidence, intelligence, a sense of humor, individuality, professionalism, playfulness, seriousness? Do you want it to be casual or formal? Is the environment around you important? For instance, we photograph many realtors on the city streets, moving companies within their facilities, investment groups with their teams either in boardrooms or in front of their buildings, etc. Not sure? Then schedule a free consultation with us and we'll help you tease out what will work best for you and your goals.
Wardrobe, Makeup, and Hair
As you can read in our Guide to Great Headshots, we firmly believe that the cosmetics of a headshot are all about reflecting what you look like on your very best day. You want a wardrobe that's not too busy (unless "busy" is authentially YOU, as it was for this client). And for goodness sake, don't change your hair and your makeup just for the shoot. You want to look like your headshot when people meet you. That doesn't preclude having your makeup done, though. We have a host of great makeup artists who know how to make you look fabulous in any light, and particularly in front of our camera.
A Fitting Environment
We love environmental portraits because they help to tell your story. They provide a little more bandwidth to relay a couple of key details, like a realtor standing in front of a building or a coach standing near a track or a CEO near company signage. However, a clean studio shot has its own advantages: the focus is solely on you, there's nothing to distract, and you may be able to use it across more channels.
Here are the LinkedIn poll results.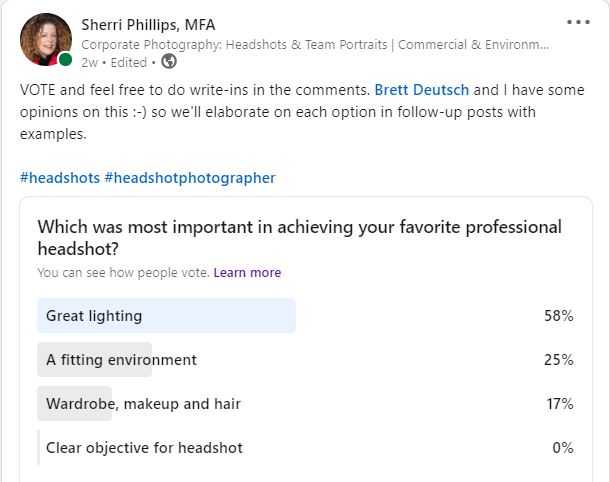 What do YOU think?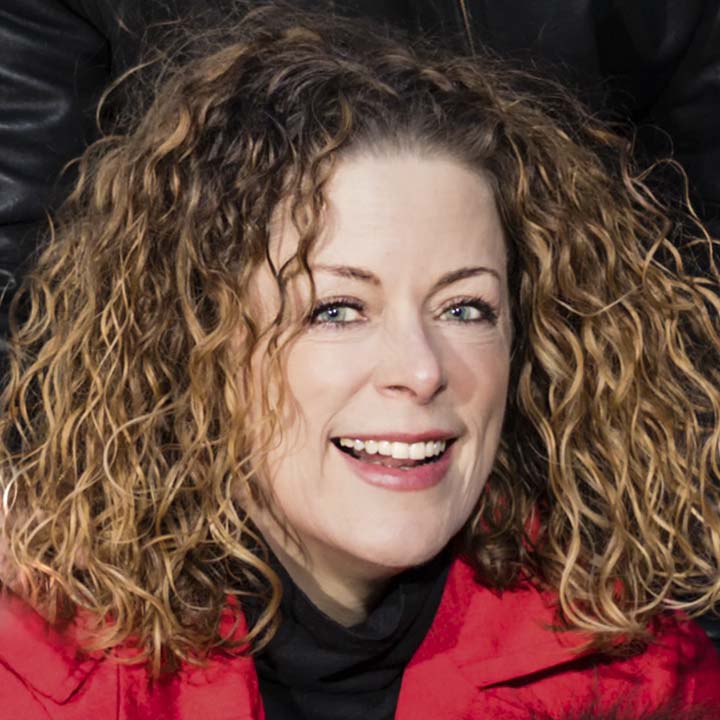 Co-owner of Headshots NYC, Deutsch Photography & Gotham Family Photos. Lover of images & the stories they tell. Fanatic about words, numbers & patterns. Entrepreneur & adventurer w/keen wanderlust. Life/love/business partner of my husband, photographer Brett Deutsch. Eternal love affair with NYC, where I landed by way of GA, TX & CA.