We're so pleased that LinkedIn Expert Marc W. Halpert accepted our invitation to share his top LinkedIn tips on our blog. Marc is a LinkedIn Trainer, Coach and Evangelist, owner of connect2collaborate, and author of the forthcoming book LinkedIn Marketing Strategies for Law and Professional Practices, 2nd edition (April 26, 2021). We ran a poll about headshots among our LinkedIn followers — and now we want to dive into the LinkedIn deep end! So without further ado, we turn over our blog to Marc so that we can employ his LinkedIn tips the moment we're done reading.
* * * * * * * * *
On LinkedIn, We Also Buy with Our Eyes
Attention-deficit pandemic content consumers are attracted to color, motion, and imagery now more than ever.
Yet casual visitors who stop by your LinkedIn profile may not absorb what you wrote the first time around. But they do remember pictures. Your use of graphics could not be more critical, added to a narrative telling why you are "amazing-er" than the competition.
So how do you optimize your LinkedIn profile's look and feel? And are you using all of LinkedIn's graphic options to attract, guide, and evoke the desired effect on your profile? Starting at the top of your profile, let's glimpse all of them, along with my top LinkedIn tips.
1. Banner
This 1600 x 400-pixel graphic sets the tone for visitors, where you pictorially make your first impression. Do not settle for the default three-tone green graphic. Find a graphic or assemble a collage showing various aspects of your field, you in action. Overlay a tagline or adage for additional punch.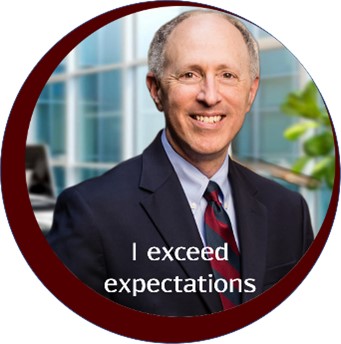 2. Headshot
Well, I don't have to tell you where to get this done, especially on this blog! Be sure it looks like you, today, not years ago: hair color, haircut, style, weight. Look approachable and pleasant. Make use of the background, perhaps also show yourself in action. Ask your favorite professional photographer's advice on current styles in LinkedIn profile photos, including how formal your clothing should be, to stay atop current trends. Always make it easy to be visually recognized. No logos, children, or pets here. I overlaid my tag line here (instead of my banner).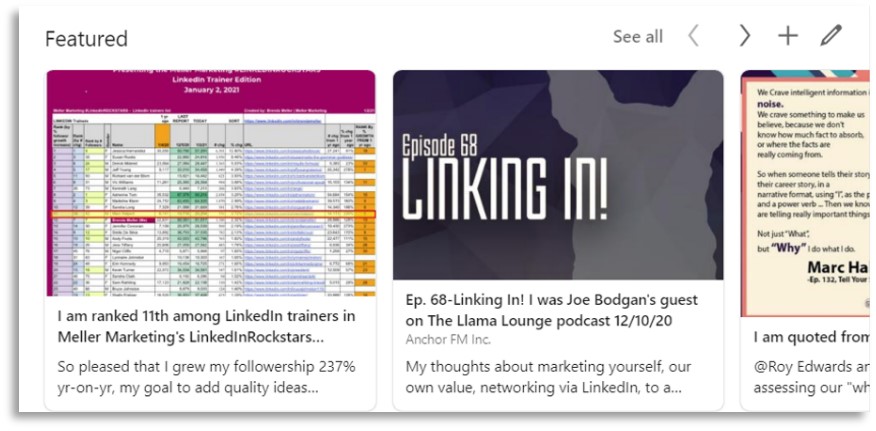 3. Featured section
LinkedIn allows you 2½ panels to show graphics correlated to recent work you want to showcase, such as podcasts, articles, PDFs of slide decks, video, book covers, etc. to impress the reader and prompt them to click to see more. Each panel contains an embedded link to a URL with your short description of the material behind each graphic, motivating the reader to open those of interest. Select the thumbnail carefully here. It's your chance to shine and to provide more background on you as they delve further into "why you."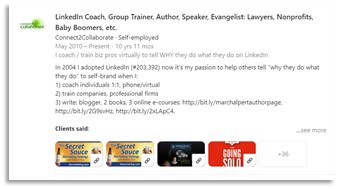 4. Experience section
Make use of company logos of the places you work/worked. If you own your own company, add your logo to your company profile Page, and tie your current position to it. Past job logos set the tone of the caliber of companies in which you have been employed.
And I will add here the importance of adding up to 4 thumbnails visible per job, so here's another place to showcase, with URLs embedded to highlight some work there. I mentioned above the Featured section thumbnails. My Experience section features an additional 8 thumbnails in my 2 current companies, so I benefit from displaying a wide range of my work, each clickable to the URL.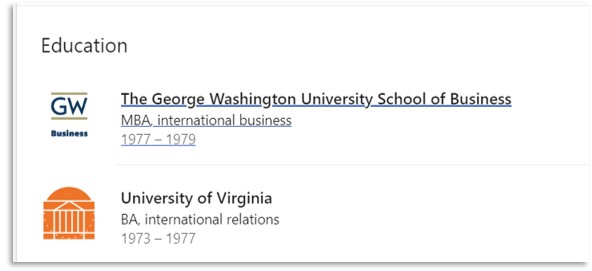 5. Education
As in Experience above, show the logos of the university you attended, carefully choosing the logo of the school or college you graduated from (they are often not the same).
Be precise in your selection.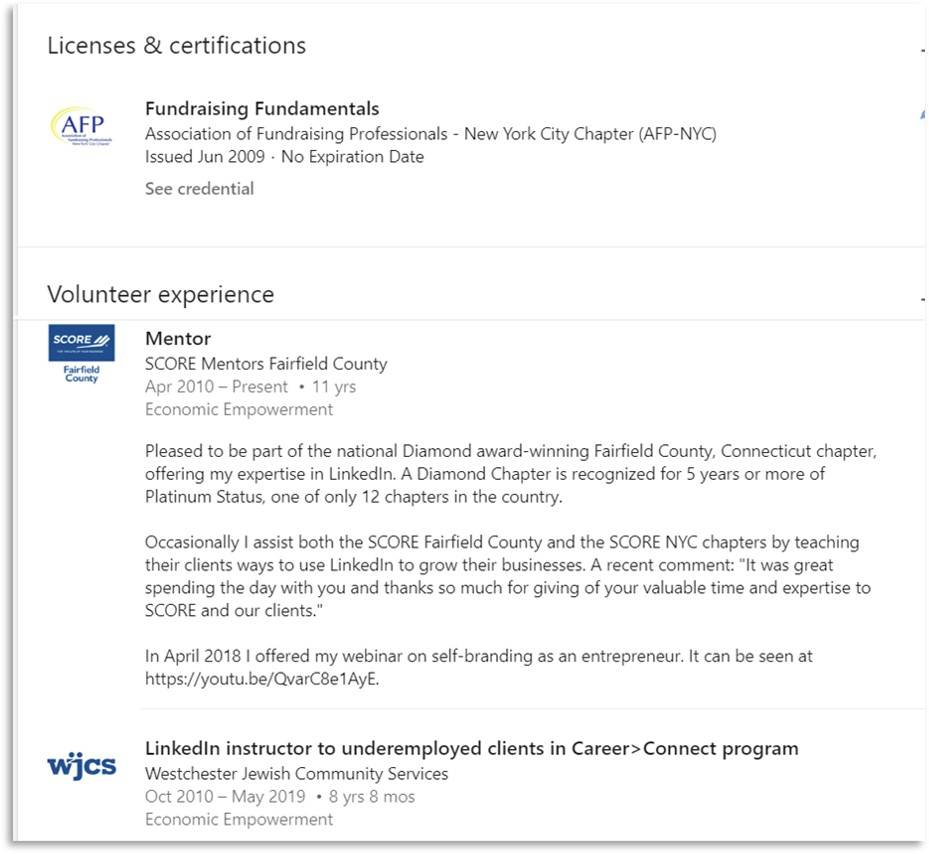 6. Licenses/Certifications and Volunteer Experience sections
These sections also allow you to attach the logos of the grantor of the licenses you earned and the nonprofits whose missions you serve.
Again, choose logos carefully to impress visitors.
7. Recommendations
The headshot of each recommender appears and provides the reader visual recognition of the writer who attests to your superb capability, in the glowing words he/she offers. This makes it more likely that your visitor will review the recommendation, and adds to your perceived brand.

8. Activity (last but not the least of my LinkedIn tips!)
I left this to the end, to impress upon you that a visitor always wants to know what you contribute to LinkedIn, based on your posts and your comments on others' posts. This section shows the last 4 times you were active on the LinkedIn feed, and beyond if the reader clicks "see more." Are you a generous source of information and conversation, or do you just lazily "like" what comes across your screen? Be the former. Impressions are being made based on your activity level, so be sure to be evocative and informative.
There! Eight places to enhance your LinkedIn profile with photos and graphics. And now that you know where, the onus is on you to provide the right images. Make the reader want to read down to the end of your profile, appreciative of your combination of pictures and words. Impress and clarify your "why" in each section, enhancing your overall brand persona and leading them to want to meet you.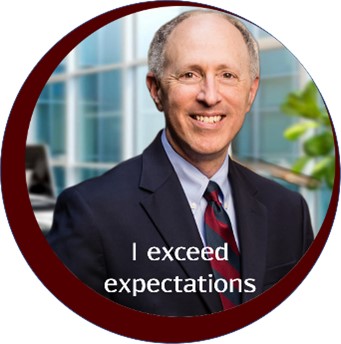 LinkedIn Trainer, Coach and Evangelist
connect2collaborate  |  linkedin.com/in/marchalpert  |  [email protected]  |  mobile 203.218.8288
Marc W. Halpert is a self-described "multi-preneur." Since leaving the corporate finance world in 2001, Marc has started 3 companies, all of which he still operates. In 2010 he started his third company, connect2collaborate, to spread his LinkedIn and networking evangelism to train and coach others. In all his LinkedIn training and coaching, he offers professionals the opportunity to better explain their brand and positioning on their LinkedIn profile pages: who they really are and why them vs. the competition.
As a LinkedIn trainer, Marc has been recognized as a high-energy speaker at national and regional conferences and instructor to sales/marketing and HR/training departments at large and small professional service firms and businesses. His specialty in customized personal coaching has helped individuals in all walks of life and industries to use LinkedIn to better achieve their professional goals.
As a personal LinkedIn coach, he advises and mentors professionals in all walks of life to tell "why they do what they do" (not "what") as he works with them to renovate their LinkedIn personal and company profiles. For some clients this gives them permission to recount their career narrative story, after a lifetime of being "stuck" and unable to fully explain how their past makes them who they are today, and where they see themselves going in their future.
His book LinkedIn Marketing Strategies for Law and Professional Practices, second edition will appear April 2021 published by the American Bar Association, to help all types of professionals learn to better market themselves using the tools in LinkedIn. His other books and online e-courses can be found on his LinkedIn page.